Its been a while since I share Mexican recipe. I got nice poblano peppers from Farmer's market. Waiting for my Mexican night so I can make it. I didn't want to make heavy, cheesy Mexican dish so I create this light but filling and full of vegetable dish. Enjoy it with simple Mexican rice and guacamole. If you want you can add cheese and baked it till it melt but I didn't want this time so I skip it. Maybe next time.
Ingredients :
3 Poblano peppers
1/4 cup of black beans, cooked
1 each Red and green bell pepper, chopped
1 small white onion diced
4-5 Brussels sprouts
1/4 cup frozen sweet corn, thawed
1/2 zucchini diced
1 carrot diced
Salt as per taste
2 tbsp or as per taste Mexican seasoning
Lime juice as per taste
Method;
Take poblanos, Make a slit in between, make sure you don't cut through.
Take the seeds out and roast it over the flame. or you can first roast it in and cut it from one side and clean the seeds out. whatever way you can do it.
Roast all the vegetables.
Add spices in vegetables and stuff it inside the poblano peppers.
If you think it's cold, Put the whole dish in the toaster oven so it warms it up.
Serve it with Mexican rice and guacamole.
For Mexican rice
Take cooked rice and put it aside.
Heat a pan, add 1 cup of chopped spinach and cook till its wilted down.
Add black beans and taco seasoning and salt and mix it.
Add cooked rice and mix it nicely.
Serve it along with any Mexican dishes.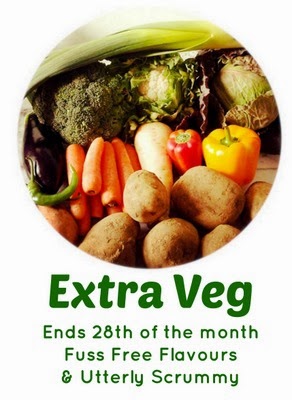 Susan's page
,
Lisa's page
, hosted by
Cooking With Siri | Recipes, Reviews and Reflections.: {Event Announcement} My Legume Love Affair (MLLA) 81 [Last Date: March 31st 2015]
Helen over at Fuss Free Flavours
,
Michelle from Utterly Scrummy
, hosted by
#ExtraVeg March 2015 – A Simple Way to a Healthier Diet {A Food Blogging Challenge}